Main content starts here, tab to start navigating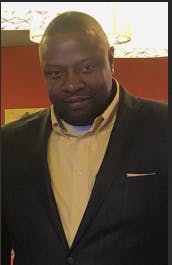 David L. Thomas
Business Strategist
For over 20 years, David L. Thomas has been a thought leader, business strategist, and implementer. Through technological innovation, keen business strategy and aggressive tactics, his career has blossomed in diverse markets from an early interest in celebrating milestones to being responsible for developing technology infrastructure and pathway as President and CEO of DeKrouff Core Drilling Company.
Growing up on the streets of the concrete jungle, the native Brooklynite felt the beat of entrepreneurship pulse through his veins. In 1999, he launched his entrepreneurial journey as a partner of Original Party People, an events management company. Still astonishing clients and partygoers to this day, the company puts on high-profile private parties, off-the-chart weddings, and charitable events for the most discerning clientele.
Thomas' professional acumen coupling business operations with knowledgeable tactics is what led him to the position of heading DeKrouff Core Drilling Company for upwards of two decades. He ensured the company's multi-million dollar contract with CableVision, the nation's fifth-largest cable provider, to provide infrastructure for high-speed internet, digital cable, and phone service.
Utilizing strategically cultivated industry alliances, Thomas also garnered contracts for DeKrouff to engineer and construct cell-towers for such telecommunication titans as AT&T, Sprint, T-Mobile, Verizon, Metro PCS, and Crown Castle. Merging his experience in telecommunications with a combination of big picture thinking, as well as attention to detail, Thomas opened Bedford Technology during the summer of 2013. Subsequently, he also opened a T-Mobile franchise in his home borough of Brooklyn, New York.
As a partner in both the Brooklyn Dumpling Shop and Brooklyn Chop House, Thomas' broad array of construction, business, management, telecommunication, and franchise expertise is welcomed at the table. He has devoted his energy into facilitating expansion of the brand from conception to its current market position gaining increasing visibility. With partners Robert "Don Pooh" Cummins and Stratis Morfogen, this visionary aims to turn cultured foodies on to these eateries on a global scale.